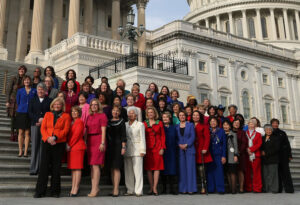 On November 4, 2014, midterm elections will be held in the United States where all 435 seats in the United States House of Representatives; 33 out of 100 seats in the United States Senate (plus three more seats up for special election); as well as 38 state and territorial governorships and 46 state legislatures will be contested. The main question for most people is whether the Democrats will be able to keep their majority in the Senate because it would determine the policies of American government to a great extent in a foreseeable future. However, there is another exciting development related to it because the upcoming elections present an unprecedented opportunity for more women than ever to rise to political power.
Many political analysts predict that there is a real chance to change the traditionally male-dominated American political landscape to one where more women will have a real chance to impact the country's politics. It is a well-known, albeit disconcerting, fact that although American women represent more than 51 percent of voting public, they still hold only about 20 percent of political positions. However, some influential political positions are contested by women this year, which can make a difference on how the political process will proceed in the country.
For example, for the first time in the history of West Virginia, there are two female contenders for a Congress seat this year: Natalie Tennant (D) versus Shelley Moore Capito (R) (Capito is predicted to be a winner at the moment). In Kentucky, Alison Lundergan Grimes (D) is running for a Congress seat against Mitch McConnell (R), although she is facing an uphill battle in a predominantly Republican state. Terri Lynn Land, Former Secretary of State in Michigan, is one of those who holds a lot of hope for a Republican party to win the position after Carl Levin had retired. And, of course, there are media favorites such as Susana Martinez, New Mexico's first female governor who is surely a force to be watched; Elizabeth Warren, Democratic Senator from Massachusetts, who became popular after airing her views at such shows as Jon Stewart; and Mia Love, who potentially can become the first black female Republican in Congress and the first person of color to represent Utah. There are many women candidates running for Governor of states, like Wendy Davis (D) Texas, across the US as well which is sure to change the political landscape.
Why women can make better politicians? Although it may be politically incorrect to say so, but women are more flexible, better attuned to other person's view, and are more willing to compromise. If one considers low poll rates for an American government at the moment, women can provide new hope for people. The ability of women politicians to achieve results was well demonstrated during the shutdown of the American government. Out of fourteen senators of the bipartisan committee which worked out the compromise, six were women (which is very impressive considering the number of women there overall), and they delivered. The shutdown was discussed, debated, and ultimately resolved. Such is a power of women: discuss, listen, consider, compromise and deliver. – Becky Kospanova