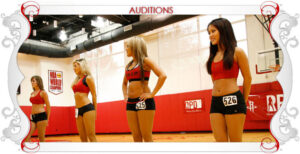 Register now for RPD prep classes!
Think you can dance?  Want to join the best?  Auditions are set for the hottest dance team in the NBA…  Pre-Register now to receive monthly updates on RPD auditions and insider tips & techniques from RPD coaches and captains.
RPD Preliminary Auditions
Saturday, July 11, 2009
9:00 a.m. at Toyota Center
2009-2010 RPD auditions will take place Saturday, July 11, 2009, at Toyota Center, with registration beginning at 9:00 a.m.  Two to three rounds will take place July 11, and finalists are required to take part in a one to two week training camp (includes dance practice, conditioning, a professional interview, and drug/background screen), which concludes with a formal final audition.
Applicants must be at least 18 years of age and high school graduates.  No formal dance experience is required, although training in dance, cheer, drill team, and/or gymnastics is strongly encouraged.  Audition routines will include a mix of hip-hop, jazz, pom, and dance technique choreography.  Power Dancers must be full-time students or hold full-time employment.  Applicants will need to bring a non-returnable photograph (head shot or full-length), Texas Driver's License, and a one page professional resume including dance experience to auditions.  Proper attire is a two-piece top and shorts dance ensemble with tights or hose and non-marking dance/tennis shoes.
Sign up now for Power Dancer Prep Classes! They're the hottest dance class in town, a great way to get in shape, and the best way to learn more about the RPD! And new this year, we're offering two additional classes to give interested dancers more options to attend, for a total of 5 classes! Prep classes give attendees a chance to learn real Power Dancer hip hop, thrashy jazz, and stylized dance choreography as performed on the Toyota Center court. Along with the latest in choreography, each class will include a warm-up, dance technique session, and Q&A geared toward audition specific topics (different choreography and Q&A topic each class – topics include audition attire, application/resume tips, hair/make-up tips, interview/audition etiquette, and what to expect the day of auditions). Classes are taught by Power Dancer coaches and captains. Prep classes are not mandatory to audition, but definitely give those attending an idea of what to expect at auditions.
Classes will take place Friday, June 19, Monday, June 22, Friday, June 26, Monday, June 29, and Monday, July 6. All classes will take place from 7:30-9:30 p.m., with registration beginning at 7:00 p.m. at the Memorial Hermann Wellness Center located at 7731 Southwest Freeway. Classes are $45 each, and discounts are available if you sign up for 3 or more classes. Register now to save your spot!
Want to know more?  Call the RPD Audition hotline at 713-758-7450 or email [email protected]
Hair and make-up provided by Toni & Guy Memorial City and Woodlands salons. Tanning by Malibu Tan. Training by FIT Athletic Club.