Beer or Wine: What Does Your Choice Say About You?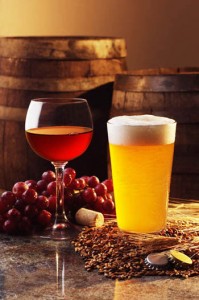 Most people, after experimenting with different types of alcohol, choose their favorite drink and stick to it. There is a wide range of alcohol to choose from: hard liquors, different cocktails, dazzling variety of wines and, of course, many types of beers. As such, many people believe that a choice of drink can tell a lot about a person's character and life style. What are some of the most widespread beliefs associated with favorite alcoholic beverage?
Two of the most popular drinks, beer and wine, have been around a long time, probably as long as humans themselves. Archeological discoveries demonstrate that people started producing wine and beer around 3000 BC on territories of such ancient countries as Iran, Egypt, Armenia, and Georgia (to name a few). Thereafter, the production of wine and beer has spread across the continents and both drinks have steadily gained in popularity. Of course, both drinks came to be associated with certain traits of character.
Beer is often a first alcoholic beverage for many people, and some stay faithful to it for years to come. Generally, it is a cheap, filling, and readily available drink, which can be enjoyed just about everywhere. While there is a wide choice of beer ranging from lagers, ales, pilsners, stouts, drafts, and bottles—it is still considered to be a rather democratic drink. Poor, simple folks equally love it as well as rich and powerful. Still, beer is often considered to be a somewhat lowbrow drink. Usually, someone who drinks beer is seen as a non-fussy, predominantly blue-collar, undemanding person who does not look for finer things in life. However, with the spread of microbreweries beer is becoming fancier nowadays. There are beer-tasting events held in many locations where beer can often cost as much as good wine.
Wine is also a very popular drink with many people. Most people come to it later in life and some become true connoisseurs of it. Wines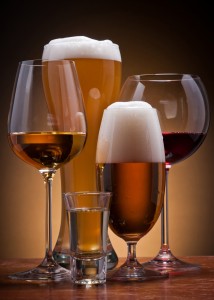 vary greatly in price depending on region and year it was produced. French and Italian wines, with their superior grapes and rich traditions, are often the most expensive ones; Australian, South African, Chilean, and American wines are often more affordable and some can be very good. While wine drinkers can sometimes come off as pretentious and somewhat snooty, many people drink red wine because of its health advantages; scientists assert that it is good for your heart. Interestingly, according to 2011 statistics provided by International Wine and Spirit Research and Vinexpo, traditional countries with highest rates of wine consumption such as France, Italy, Spain, Austria, and Germany were pushed over by US, where experts predict that by 2015 there will be 13 liters of wine consumed per adult per year. Two more countries, which are emerging as big wine markets, are China and Hong Kong. As such, wine is becoming a drink of choice for many people across the countries.
No matter what kind of alcohol a person prefers, the stereotypes associated with it are often no more than that—stereotypes. In the long run, your alcoholic preferences do not define your character; most importantly, your character shows if you can enjoy a drink responsibly.
Becky Kospanova