INDUSTRY PROFILE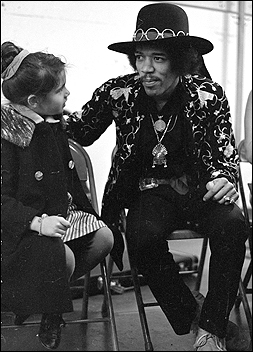 Janie Hendrix
Posted: February 4, 2010
By Larry LeBlanc
Forty years after his untimely death at 27, Jimi Hendrix's musical legacy continues to be appreciated by his fans while attracting new followers, and transcending generational boundaries.
According to sources, Hendrix's catalog sells some 500,000 albums annually in the United States, while worldwide sales average about 1.2 million units per year. His songs have been covered by everyone from Eric Clapton to John Mayer
While Hendrix's catalog has been continuously repackaged over the years we will now hear more–much more–from the legendary singer/guitarist who passed away Sept. 18, 1970 in London.
Last year, Seattle-based Experience Hendrix, the Hendrix family-owned company founded by Al Hendrix, Jimi's father–and now headed by Jimi's stepsister Janie Hendrix as its president/CEO–struck an 8 year worldwide licensing deal with Sony Music Entertainment.
The deal took effect Jan. 1, 2010. Universal Music Group had previously held the master licenses for the bulk of the Hendrix catalog since 1997.
This year Sony will launch an extensive reissue program that includes deluxe CD/DVD versions of "Are You Experienced?," "Axis: Bold As Love," "Electric Ladyland" by the Jimi Hendrix Experience; the Dagger Records officially-sanctioned "bootleg" line; and previously unreleased archival recordings and filmed concerts.
Last year, Experience Hendrix shifted administration of the Hendrix publishing catalog from Sony/ATV Music Publishing to Universal Music Publishing Group. Sony/ATV had administered the Hendrix catalog outside the U.S. since 1998. The U.S. publishing rights continue to be handled by Experience Hendrix.
The first issue under the Sony Music Entertainment deal is "Valleys of Neptune" on March 9th. It is an album, produced by Janie Hendrix, John McDermott and Hendrix's longtime engineer Eddie Kramer, of 12 previously unreleased studio recordings primarily from 1969.
Among the album's highlights are the title track—being released globally ahead of the album; covers of Elmore James' blues classic "Bleeding Heart" and Cream's "Sunshine of Your Love"; and Hendrix original songs "Ships Passing Through The Night," and "Lullaby For The Summer." Also included is "Mr. Bad Luck," a track recorded from " Axis: Bold as Love" sessions in 1967.
Also being released on March 9th are CD/DVD versions of the albums "Are You Experienced?," "Axis: Bold As Love," "Electric Ladyland," and "First Rays of the New Rising Sun." Each features documentaries directed by the Bob Smeaton with interviews with former Experience members Noel Redding, Mitch Mitchell, and Billy Cox; former producer/co-manager Chas Chandler; and Kramer.
In addition, the 1969 Experience compilation "Smash Hits" is being reintroduced, and "Live At Woodstock" will now be available, both as a DVD, and as a Blu-ray Disc.
At some point, Hendrix's core recording catalog will be issued as a box set for the first time.
Meanwhile, Experience Hendrix Tour 2010, a 17-date national tour presented by Experience Hendrix, kicks off March 4th. It will include Joe Satriani, Jonny Lang, Eric Johnson, Kenny Wayne Shepherd, Brad Whitford, Doyle Bramhall II, and Ernie Isley, along with Cox.
Al Hendrix died in 2002 at the age of 82. By this time, Experience Hendrix, the company he founded and entrusted with preserving and protecting the legacy of Jimi Hendrix, had gained control of his master recordings.
In 1993, Al Hendrix had filed suited in federal court in Seattle against the Bella Godiva, Inherit, Elber, and Are You Experienced companies, as well as his former attorney Leo Branton Jr. Al Hendrix charged that Branton had wrongly transferred Jimi Hendrix's assets to the co-defendant companies. In July, 1995 a settlement was reached that effectively transferred ownership of all Hendrix musical works to Al Hendrix.
Since then, there's been a steady flow of officially-sanctioned Jimi Hendrix titles.
His prodigious studio and stage work have afforded Dagger an abundant amount of raw, if uneven, material from which to draw, Meanwhile, the Experience Hendrix imprint has issued such mainstream packages as "Experience Hendrix: The Best of Jimi Hendrix" (1998), the two-disc "BBC Sessions," (1998), "Live at Woodstock" (1999), and "Live at the Fillmore East" (1999).
Under Janie Hendrix, adopted by Al Hendrix in 1968 when he married her mother, Experience Hendrix today makes every effort to safeguard Jimi Hendrix's legacy for an estate that has grown to be worth over $80 million.
This, as you probably guess, has not been easy.
Last year, for example, a Seattle judge ordered the makers of Electric Hendrix Vodka to pay the estate $3.2 million in damages and cease selling the spirit.
In 2008, Experience Hendrix obtained summary judgment against the London Times. The UK court awarded Experience Hendrix recoupment of its legal costs while rejecting the legal arguments and related factual contentions advanced by the London Times over its alleged right to distribute a CD recording of the Jimi Hendrix Experience performing at the Albert Hall in London in 1969. The court will soon consider the amount of a damage award in a further proceeding.
In 2005, the High Court of Justice in London held that the U.K. indie label Purple Haze Records and Lawrence Miller were liable for infringing the rights of Experience Hendrix in their recordings of the Jimi Hendrix Experience's 1969 Konserthuset performance in Stockholm.
In 1969, a Swedish broadcasting organization had filmed and recorded the Hendrix concert with permission. In 2004, Purple Haze released CDs of the concert, claiming rights through an assignment from attorney John Hillman, who claimed rights from Yameta, a Bahamas-based off shore company.
Many of the estate's legal wrangles can be traced back to 1966 when Jimi Hendrix appointed Yameta, operated by nightclub owner Michael Jeffery and bassist/producer Chas Chandler, to be his manager; and he granted the company exclusive rights to his performances.
The company was entitled to a 40% share of gross payments made to Hendrix, but was excluded from receiving royalties from recordings or publishing under the manager's control.
Jeffery, however, was killed in 1973 in a mid-air collision over Nantes, France, while aboard an Iberia Airlines DC-9, and legal tangles ensued. Former Hendrix co-manager/producer Chandler, also bassist with the Animals, died in 1996.
Two years ago, Janie was sued by Jimi's younger brother, Leon Hendrix, Leon's children and seven other members of the Hendrix family over the estate.
They claimed Janie schemed for years to have Leon cut from Al Hendrix's will, and exploited his dependence on her and his legal naiveté to get her way.
During her time on the stand, Janie described how she had worked to help her father win back the legal rights to Jimi's music.
In his 35-page decision, Judge Jeffrey Ramsdell said that Leon Hendrix didn't prove that Janie Hendrix unlawfully coerced Al Hendrix into denying Leon and his children a place in the estate. Ramsdell added that Al Hendrix, while not healthy, appeared to know exactly what he was doing when he signed his 1998 will.
Does it get tiring dealing with Jimi Hendrix matters?
Never.
You've never heard "Purple Haze" and sighed?
Never. In fact, we have been listening to the VON ("Valleys of Neptune") album. I've let my kids hear it. My youngest is a techie. He asked, "Mom can I download it on my computer." I said, "No." "Mom, you don't trust me." "It's not that I don't trust you but, if you want to listen to it, you ride with me in my car, and we will listen to it."
Why so long for this album to be issued?
Well, after we started Experience Hendrix (in 1995) we knew that we had 10 years of recordings. This (album) was going to be part of the first phase. Then, when we found the Chas Chandler tapes for a box set, that took precedent. Then, along with some of the other releases, we pushed it back to the second phase. Knowing that we would have another 10 more years of music really makes us more valuable to Jimi, and to the record company.
The estimated annual sale in America for the Hendrix catalog is 500,000 units and 1.2 million units a year internationally.
So they say. I don't know. I think it varies. I saw something in Forbes (business magazine) about us, and I thought, "Really?" A lot of times, they are guessing (about revenue).
Have you waited too long for this release of unheard tracks given the downward spiral of physical sales, and illegal downloading online?
Here it is four decades later (after Jimi's passing). In two years, Jimi would have been 70. Hard to imagine. I don't think we have waited too long because record sales are still doing well. Four months after any given release of an album (by Jimi) it goes "gold," and it increases the catalog.
The fans that love Jimi's music are not only loyal, but the older ones have followed him. They have seen Jimi in concert. They are now teaching the younger generation about him. We have fans as young as pre-teens wanting Jimi's music. As every generation goes by, the kids are getting more and more excited about his music.
This "Valleys of Neptune" is an incredible album. It sounds as if it was recorded this year. It's fresh. It's new. It's exciting. It doesn't sound as if it was recorded in the '60s. It sounds as if Jimi here with us today and creating music still.
There's continuity with Jimi's original engineer Eddie Kramer still being involved in his music.
Absolutely. It is really amazing working with Eddie. Being in the zoo with him is like going on an excursion in the country; and he can teach you what he has learned. It is like being with a professor that actually lived it; been there; and can share his experiences. Listening to a lot of the songs–if he's at The Record Plant–also sparks conversations about some other things that might have happened; especially if he hears a portion of a song. Or, if we are working on a certain project, he will go, "Oh, you know, earlier that night or later on that night, this happened" or "this is what was happening here" or "we were in this studio, and these (people) happened to come by." It really is great to have someone who was there, and who Jimi trusted.
You, Eddie and John McDermott have worked on several reissues. When was the first time you really got down and dirty on a project?
I would say the box set ("The Jimi Hendrix Experience" in 2000) was when we got really down and dirty. We were able to transfer all of those tapes in London at Abbey Road Studios, and hear everything that the (previous estate) administration had their hands on. Just to be able to hear songs in different versions was amazing. (Listening) was never-ending. It was just constant music for four days, 18 hours a day. That was incredible.
There's another box set coming?
Yes. We are going to do a box set of the core albums. That has never been done for Jimi.
Will the box set be released this year?
You might not see it until the early part of 2011.
"Are You Experienced?," "Axis: Bold As Love," and "Electric Ladyland by the Jimi Hendrix Experience" are coming out with extra tracks, and on vinyl.
When we first started (releasing) vinyl, we got laughed at. It was like "Why do you want to vinyl? Nobody buys vinyl." Even my dad told me, ""People are getting rid of their record players Janie, why are you putting out vinyl?" I told him, "Dad, it's Economics 101. It's supply and demand. People love it. Put a number on the back (of the album), and they love it ever more." He said, "Well, that's crazy." But, it's a nice way to give the fans a "blast from the past" as Jimi would say.
How about the Royal Albert Hall CD/DVD ?
Oh, gawd, you would bring up the Royal Albert Hall show. You know who our partner is on that, right? It's Jerry Goldstein who started Avenue Records.
[Experience Hendrix has been planning a CD/DVD release of Jimi Hendrix and the Experience performing Feb. 18, and Feb. 24, 1969 at Royal Albert Hall. A camera crew followed Hendrix for a month, yielding candid footage of him at home, about town, and backstage.
Meanwhile, it was announced this week (Jan. 28, 2010) that Sly Stone, front man of the 1970s group Sly and The Family Stone, has sued Jerry Goldstein, his former manager, and several companies in Los Angeles, alleging that they set up several companies to divert royalty payments and leveraged Stone's work and rights to accumulate as much as $80 million in assets.]
How did Jerry Goldstein get these rights?
Jerry Goldstein was doing Jimi's merchandise at the time. He and Jimi had a 50/50 split (deal) on the video.
There's a lot of video footage from, and around that show.
Yeah. We put it together, and it's over 106 minutes long. It's wonderful. But, we had a little situation with the London Times in 2006. They decided to throw the Roy Albert Hall (CD) into their Sunday circular, and give away over a million copies without asking us. They got (the master tapes) from Charly Records, So we sued the London Times and we won. We go to trial next month for a settlement.
[On September 10, 2006 the London Times released a CD recording of the Jimi Hendrix Experience performing at the Albert Hall in London as a "covermount" with its Sunday edition. Despite warnings from Experience Hendrix prior to the CD's release, the London Times proceeded, citing a purported license of the material from an affiliate of Charly Records, whose claims to this material have long been disputed by Experience Hendrix. During the proceedings, the London Times attempted to validate the Charly Records claim, but the UK court rejected it.]
Why the deal with Sony Music Entertainment when you worked with Universal Music Group for 12 years?
When we knew that our contract was getting to be up, we talked to several record companies including Universal. As wonderful as Universal was to us, in many respects, as in any marriage nothing is perfect. There were a lot of changes that had happened over those 12 years.
In the beginning, we had the perfect marketing team and we had a wonderful (distribution) team that we really enjoyed working with. Over the years, many of these people were let go. When we started talking to Sony, talking to their marketing people, and expressing to them what we would like to see, and how we felt that Jimi should be marketed, Sony got it. They really understood. They also had a plethora of ideas as how to add onto that. We spent hours and hours in meetings with them, and we went to Portugal (for meetings) and met with their overseas affiliates.
This is an ambitious year for the Hendrix catalog. Did you conclude that the Hendrix catalog had been previously under marketed?
I don't want to say necessarily that the catalog was under marketed, but I do think that it could have been marketed differently. There are avenues where we really wanted to take it, and we realized that Universal really couldn't get us there, and Sony could. Some of the people in Sony's marketing (department) are younger and more excited. They are hungry. They are really inspired (about Jimi) and they have a huge amount of ideas. Not just ideas but they have the knowledge, the capabilities, and the accessibility to the technology that they actually get it.
I remember when MP3s were coming out. We told Universal, "Let's pay attention here. Downloading is going to be huge. Where is that revenue going? How are we going to make sure that we get the revenue that we need and that we deserve from these sales?" And, maybe like some other record companies, there was a real arrogance there. Like, "Well, we're the record company."
Meanwhile, you have shifted administration of the Hendrix publishing catalog from Sony/ATV Music Publishing to Universal Music Publishing Group.
We did that before we signed with Sony. We knew that we were going to go that route. Although Sony/ATV Music Publishing did nothing wrong with our publishing—they did an excellent job— our thinking is that we don't want all our eggs in one basket.
Starting with the deal with Yameta, the Bahamas-based offshore company operated by nightclub owner Michael Jeffery and Chas Chandler, and with releases by Ed Chaplin's PPX Industries, the Jimi Hendrix estate has been involved in conflicts for decades.
Yes. It is kind of like the Kennedy family curse. This is the Hendrix curse.
[In 2009 the UK media reported claims that Michael Jeffery had murdered Jimi Hendrix. James "Tappy" Wright, who was a roadie for Hendrix and the Animals in the 1960s, claimed he met Michael Jeffery one year after Hendrix's death and that Jeffery confessed to the murder by plying Hendrix with pills and a bottle of wine. At the time of Hendrix's death, a coroner recorded an open verdict, stating that the cause was "barbiturate intoxication and inhalation of vomit."]
Was Jimi murdered?
I remember hearing about all of these conspiracy theories when I was a kid. They were really heartbreaking for my father. A lot of my understanding about things that happened about Jimi growing up has been through my father. It was very painful for him. My dad was 50 and he loses his 27 year old child. One thing my dad said to someone who asked him if he thought Jimi was murdered, "Whether he was or wasn't, we can't bring him back."
Do I know if he was murdered? Do I want to point fingers today? Well, (most) every person that was involved with Jimi is dead now. There's no way of us proving if it is true or not. I do know that he didn't commit suicide. While it was asphyxiation, if something happened before, I honestly don't know.
Overseeing the Jimi's legacy is a massive task. You hear people saying, "What would Jimi Hendrix do" You are often painted as another Yoko Ono.
The evil one, right? Without me, my dad would have signed away everything.
Well, Jimi wasn't a business person.
Jimi made music. I talked with Bootsy Collins not too long ago because I'm working on a project that he's helping us out on. He said, "You know. I'm a musician. The moment I have to start handling the business part is the moment I lose focus on the music part."
You have to have someone that takes care of business.
Well, that you trust. His wife Patti handles everything (as a business manager), and she does a good job.
Did the 1995 court case against your former attorney Leo Branton Jr. and others clear the air about the catalog?
Yes it did. It showed clear title and ownership. And, it unearthed a lot of information about these offshore companies–more than we had understood. There was Bella Godiva Music, for example. One of the reasons my dad ended up suing was that our attorney (Leo Branton) had told us Bella Godiva Music didn't exist anymore. My dad had realized that our attorney had lied to him. Bella Godiva was Jimi's publishing company. He created that name. He owned that publishing company.
Who owned the master rights of his recordings?
Jimi had control of his masters. So all of the masters ended up being signed over as a sale to these off shore companies. However, my dad was told it was a licensing agreement. We didn't get the rights back until 1995. In 1993, we discovered that these offshore companies had ownership.
My dad and I were buying our own (Jimi Hendrix) CDs because the old administration wouldn't give us any CDs. Clerks were like, "You are charging this and your last name is Hendrix? Are you any relation? Why aren't you getting this stuff for free." Well, because we had to buy it.
The estate didn't have signed copies of the original agreements that Jimi had signed.
No. In fact, that's how the Ed Chalpin's PPX Industries (dispute) happened. Jimi didn't have a copy of that contract, and that ended up biting everybody in the butt later. It is still biting us.
[After Jimi Hendrix had signed a management and production deal with Yameta in 1966, Mike Jeffery spent a year clearing up Hendrix's outstanding contract obligations in the U.S.
However, Hendrix had signed a three-year contract in 1965 with Ed Chalpin, who ran Studio 76 in New York, and his PPX Industries while working with Kansas-born singer/guitarist Curtis Knight. With Hendrix's breakout from the UK, Chalpin filed lawsuits claiming exclusive rights to all Hendrix's music. For some reason, Hendrix also participated in two recorded jam sessions in New York in 1967 with Chalpin.
The battle between PPX and Yameta came to court in 1968. Lawyers hammered out a settlement that gave PPX a percentage of all Hendrix's revenues until 1972, and gave Yameta control of any Hendrix material released by PPX. However, the legal dispute with Chalpin has continued to the present day.]
With all your court appearances, you should be accepted at the bar.
I think I am an honorary attorney.
You have a B.A. in education.
I did take a year of law classes, and I contemplated being a lawyer. But treating people in a mean way or twisting around things that they say to make them look bad just isn't for me. Or having to memorize all of these laws.
You are up on copyright law, however, now?
Absolutely. The last deposition I did for another frivolous (case), my attorney asked, "Do you know how many depositions you've taken?" I said, "Maybe 20." He said, "Over 100." We have all of the documents in our legal library. I remember seeing the judges and barristers in London in their wigs. We were suing Chalpin there because he was putting out (releases) through (reissue label) Charly Records. Nobody had warned me (about what they wore). I had my head down, and when (the judges and barristers) came out, I almost burst out laughing, but I didn't.
At one point did your dad realize the estate had troubles?
I will paint the picture for you. Jimi dies in 1970. He's 27. At that time, my dad is 50, still pretty young. I'll be 50 in two years. My dad was an eighth grade graduate. He had his own gardening business — he had a great clientele and he was a great gardener. His son dies with this massive estate. But, the music business, my dad didn't know anything about. A friend of ours knew Sterling Branton, and said that his brother Leo was an entertainment lawyer and practiced civil rights and all that. So on a hand shake, my dad had a deal. If Leo could get anything for my dad—because it seemed like it was a huge mess—than he would be his lawyer for life. It was "You don't have to pay me anything if I can't get you anything." It seemed like a great deal for my dad. So he shook his hand.
[Branton was well known both as a litigator and as an entertainment attorney. Among his first clients in the entertainment industry were Nat King Cole and Dorothy Dandridge. He represented Cole from 1958 until his death in 1965.
A celebrated American civil rights activist, Branton also defended 13 members of the Los Angeles chapter of the Black Panther Party against an unlawful attack by the Los Angeles Police Department during the '60s. His most celebrated case was the successful defense and acquittal of civil rights activist Angela Davis in 1972.]
Let me paint the rest of this picture.
My parents lived very simply. My mother was a tailor; my dad was a gardener. We didn't have a lot of money. Our house cost $36,000, and the bank really owned it. My parents were making payments. So we had to ship Jimi's body back (from London). Jimi had a studio in New York (Electric Ladyland) but it still owed (overhead payments). Jimi wrecked two cars, and they were in the auto shop. Now dad has got to fly back from London to New York to gather his things up. He's distraught. His son died. It was just a very hard time.
It took four years for Leo to entangle everything (with the Yameta contracts) because Michael Jeffrey was doing whatever he was doing. Then he dies (in 1973). The "mysterious" plane crash.
Finally, everything seems to be sorted out. Now my parents are going to receive $50,000 a year from the licensing deal. So $50,000 to a gardener that is charging $6 to $10 to do a yard, that's big money in 1974. We were able to move into a bigger place. By the time this is happening, I am 13 years old.
Was the conflict with the family over the estate two years ago painful for you?
Absolutely. When you divide a family, and people are pointing fingers and, of course, there is money involved and all of that, I'm not one to retaliate on someone else. When my sister was saying whatever she was saying, I didn't turn around and say, "But you…." They had so many witnesses who were just lying. There were several people who got up and said, "I was at Al's house and Janie came over, and had Al sign all these documents."
Any truth to that at all?
First, I'd never seen some of these people in my life. Secondly, I didn't just go to my dad's house and say, "Here, sign these documents." I was very diligent about reading everything to my father, helping him to understand whatever it was that needed to be signed. In times when things needed to be signed, it was always just me and him. There wasn't a roomful of people or anybody else.
Who was left in the house after Jimi left?
It was just me and Leon. A lot of times Leon was in jail. My dad just kind of threw his hands up with Leon. He couldn't do much with him. So I think I got the brunt of everybody. My siblings on my mom side, they continued to be raised by their father so they didn't move in.
Are things better with the family now?
I think they are better in some ways but, sadly with some relatives, we still don't speak.
Obviously, Leon is angry that his father decided to not give him an inheritance.
Yes. I learned this later. I really did not know that my dad did not include Leon in the will. I did realize, of course, that he wasn't a beneficiary, but that didn't mean that he wasn't going to get money awarded or something. I was shocked that my dad didn't give him anything.
You went to inner city schools in Seattle. Was it tough being Jimi's sister?
In elementary school, when Jimi was still alive, I used to get, "Oh wow did you see Jimi Hendrix on TV? He was on Dick Cavett." My friends would say, "Yeah, that's Janie, Jimi's sister." The older kids would think that was cool but I got teased a lot by kids my age.. Kids would be tough, and I had to stand up for myself.
It is a blessing and a curse having such a famous relationship?
It's not a curse, but it definitely has its challenges at times. There are jealousies, and misunderstandings. There are always questions of," What was it like to grow up that way?" Truthfully, and I try to do it with my kids, my dad kept us very grounded.
Was your dad strict?
Strict isn't even the word. He would look at you, and he wouldn't say a word. He would just look at you. You knew what that look meant. You'd better knock off what you were doing or you were going to get it. Then he would say something, usually your name. That was usually enough, but if you still continued, you'd get slapped or hit. If mom said, "Wait until your dad gets home" then it was a beat-down with a belt like you were a runaway slave.
Jimi was quite shy and quiet. Was Al like that?
My dad was pretty quiet. He did a lot of deep thinking. He had a lot of wisdom. I could see the same in Jimi. Dad was a person of very few words but when he did say something it was very profound. And Jimi was the same way. He didn't really talk a lot
I remember when I was a kid and Jimi came back home. He told me that he was sorry (about my father's strict discipline) because he got whuppings too, when he was young. Later, I found out after my dad wrote his book ("My Son Jimi"), that Jimi never got any whuppings. I never understood why we got so many whuppings if he didn't.
While Jimi didn't seem to have a driver's license, he could never resist taking the wheel of a Corvette, of which he bought several. In one incident, he was almost killed.
I don't remember seeing a driver license. He was a horrible driver. Do you know why? He needed glasses. When I was a kid I had to wear glasses and I used to tell him that I hated wearing glasses. He tried them on, and he said, "Actually, I need to be wearing your glasses so I can see."
Unlike Elvis and other late icons, Jimi wrote almost all of his songs including classics like "Foxy Lady," "Purple Haze" and "Voodoo Child." How many songs are in the catalog?
There are over 110 songs.
Have there been many covers? It's hard to beat a Jimi Hendrix performance.
Yeah, but John Mayer does Jimi. Sheryl Crow has recorded Jimi. Paul McCartney and, obviously Bob Dylan and Eric Clapton have recorded his songs. There's been Robert Randolph (and the Family Band). There was a tribute album ("Stone Free: A Tribute to Jimi Hendrix" in 1993). Prince wanted to do a full album on Jimi.
You don't allow sampling of his music.
We think it dilutes the catalog. We think it dilutes the ownership of the song. If an artist samples your song, now the ownership is split. Chuck D did a sample of our song, and now we own it (the overall song).
[Rapper Chuck D sampled Jimi Hendrix's 1971 song "Freedom" as a backdrop for "Free at the Edge of an Answer", an angry meditation, ironically, on free speech. Last year, the song, as well as "Angel" and a live version of "Foxy Lady" was released as downloadable content for "Guitar Hero: World Tour."]
Will the Experience Hendrix Tour 2010 help market Jimi's legacy and his catalog?
It is definitely a marketing tool. It also brings Jimi's music to younger people who never experienced Jimi onstage. To actually be experienced. That's what Jimi was talking about. Feeling his music in your bones and experiencing in your body and out of body through your mind. That is how we are trying to bring the music to people.
By launching Dagger Records in the '90s, you shut down many of the bootleggers.
I think that it did. It didn't completely shut (bootlegging down) but it is, at least, giving fans what they were looking for, and lets them see that if something doesn't have our logo on it than it's not ours.
Meanwhile, the Experience Hendrix label has also put out Jimi releases over the years. What's the difference between the two labels?
We have a virtual store where, a lot of the time, its family members who are answering the calls. We try to discourage buyers, if they have never bought any of Jimi's music, to buy Dagger. If they are a 17-year-old kid, and they have heard about him but have never heard his music, and they pick up a Dagger release they may be disappointed. That's its not front line. That it's not stereo. We ask if they have ordered or bought anything else before. If not, then we would encourage them to buy something from the core catalog first. And, once they begin to whet their palette with his music, then they might order a Dagger release. They are really for the hard core fans. They may be mono. They may have been recorded with a (cheap) microphone. Jimi used to carry around a little cassette recorder; and a 4-track recorder.
It has been a few years since you operated the Red House Tour museum on wheels. It was interactive with duplicates of the outfits that Jimi wore onstage.
Sony is very interested in continuing the Red House Tour. We are looking at transforming one of their Sony Playstation buses into our Red House Tour (vehicle) and taking it back on the tour. It has been about 6 or 7 years since we last did that.
In Seattle, there's the Experience Music Project inspired by Jimi.
We have EMP, and there's the North West African American Museum that displays his hat. It's a very small museum. Next to it is the Jimi Hendrix Park. We will have a grand opening for it in 2012.
Will there be another fashion line like the Jimi Hendrix Collection—a collaboration between designer Gina Alexander, and photographer Robert M. Knight which premiered in 2006?
We are still working with Gina. She did another launch of different purses that are inspired by Jimi which are cool. We have a deal with Converse for some really cool tennis shoes inspired by Jimi. They are not out yet. They are coming. I am working with Brand Sense (a Los Angeles firm that specializes in building brands around celebrities) and they will be launching a branding opportunity with Jimi. They work with Sheryl Crow. We hope to do some really cool things that that won't necessarily have Jimi's image but will definitely be inspired by Jimi.
All things Jimi?
All things Jimi.
Larry LeBlanc was the Canadian bureau chief of Billboard from 1991-2007 and Canadian editor of Record World from 1970-89. He was also a co-founder of the late Canadian music trade, The Record. He has been quoted on music industry issues in hundreds of publications including Time, Forbes, the London Times and the New York Times.