1945 – The Great Writer Aleksandr Solzhenitsyn Arrested
 E. VirGinia Johnson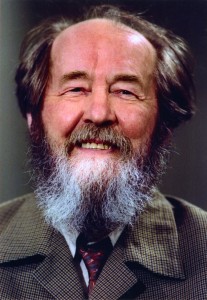 In 1945, The Great Writer Aleksandr Solzhenitsyn was arrested by the Soviets for criticizing Joseph Stalin in a letter to a friend. In a special labor camp in Ekibastuz, Kazakhstan, he wrote his epic poem Prussian Nights. He had no pen or paper and was not allowed to write. Each day, he would compose a few lines, carve them into a bar of soap, and recite them over and over again until they were committed to memory. Every evening in his daily shower, he would use the bar of soap and wash away his writing. After years of captivity, he had written the entire book, committed it to memory, and watched it be washed away every evening.
When we have something that needs to be expressed, we will find an outlet for its expression. There will never be more perfect time than right now, never a more perfect place than right here, and never anyone more perfect than you to express what needs to be expressed. So many of us have a challenge writing down what€™s bubbling up for us, even when we have pen and paper and permission to write. What if we give ourselves permission to write down—or draw or sing or dance—what IS alive for us in this moment and understand that we can always make changes? What would happen if we were to honor the process rather than demand perfection?